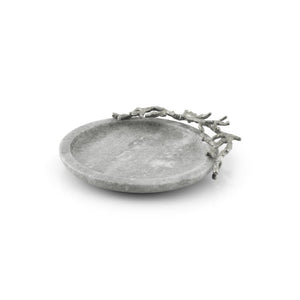 Michael Aram Ocean Reef Trinket Tray
Michael Aram
7.75" L x 7" W x 1.75" T. 
Not Dishwasher Safe. Hand wash with gentle detergent, dry immediately with soft cloth. Avoid any detergent with lemon or other acidic agents. Do not soak, even in plain water, or leave unwashed overnight. Do not use abrasive cleaners, steel wool or scouring pads that can scratch and dull metal surfaces.
Handcrafted trinket tray made of gray sparkalite marble, nickel plate, and gray sand washed enamel.