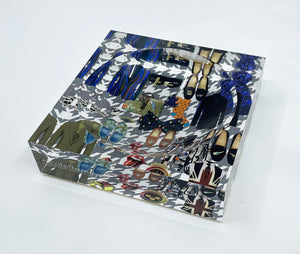 Bougie Men Metal Acrylic Candy Tray
Our Acrylic candy bowls are the hottest tabletop design gift around. Made with the finest grade of solid 2" thick acrylic, these bowls are the best home accessory made by Nicolette Mayer. We are the destination for optimism and positivity where great design meets art and affordability. 
Created in 2012, the Nicolette Mayer Lifestyle brand designs luxurious yet modern home accents including a variety of conversation and collectible pieces that includes tabletop, accessories and serving & vanity trays with a collection that continues to expand.

Finest grade acrylic
Made in USA
Hand wash only
Serve candy, nuts or display beautiful flowers
Not suitable for hot foods or liquids
Flammable - do not use as an ashtray
Measures approx 6"W x 6"H x 2.5"D