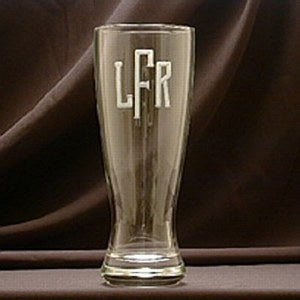 Tall "GRANDE" Pilsner, Set of 6
23 oz, 9" H
Please allow approximately 2 weeks for arrival of this product
When placing an order, please list the following information in the comments box at checkout: 

Monogram (First Letter, Second Letter & Third Letter)
Monogram Style Number
Monogram Placement (when required)

Eight monogram styles are available. 
For Bridal Registries the Bride has already determined the monogram.
For monogram etiquette or information on other styles, please call the store, 610-688-3222.
Three letter hand-carved monogram included in price.