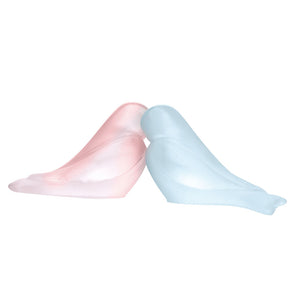 Small Blue Pink Love Birds by Pierre-Yves Rochon
Small Blue Pink Love Birds by Pierre-Yves Rochon
05384-22/C
With Daum, Pierre-Yves Rochonpresents a bird collection full of lightness and poetry.
Love Birds present a great range of colours. These birds which contours are smooth and delicate remain powerful symbols of universality and open-mindedness. They are full of softness and tenderness.
Since 1878, Daum has created world renown art pieces out of their crystal studio in Nancy, France. Every crystal piece by Daum is signed with "Daum France" to signify its origin and quality. Pâte de cristal is a Daum specialty; a precious material that gives their creations a sculptural depth and dimension, which has been refined unceasingly over time. Pâte de cristal has the quality of giving translucency to the forms it reproduces and the brilliance of this material, the intensity of colors and the myriad subtile shades all contribute to Daum's unique methods.
Every Daum piece we sell is brand new in its original box
Limited Edition items come with all paperwork
Daum crystal pieces are hand-made in France

Size H: 1.4" L: 2" W: 0.8"