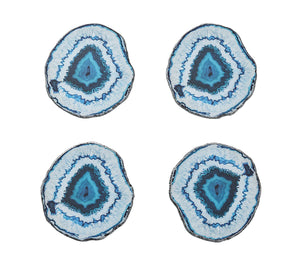 Kim Seybert Marine Drink Coasters in Blue, Set of 4 in a Gift Box
The Marine Coasters were inspired by the naturally occurring beauty of Blue Lace Agate, a pale blue crystal, usually banded with brighter blue and white. The acrylic coasters mimic a slice of exquisite agate and feature a fresh colorway of blues and whites. A sleek resin finish elevates these sophisticated, organic-shaped coasters.
COLOR:BLUE

DIMENSIONS: 5" Length x 4.75" Width x 0.25" Height

WEIGHT: 0.6 LBS

MATERIALS:70% MDF, 20% Acrylic, 10% Cork
CARE: Wipe clean with a damp cloth.