Ginori 1735 Oriente Italiano Rubrum Collection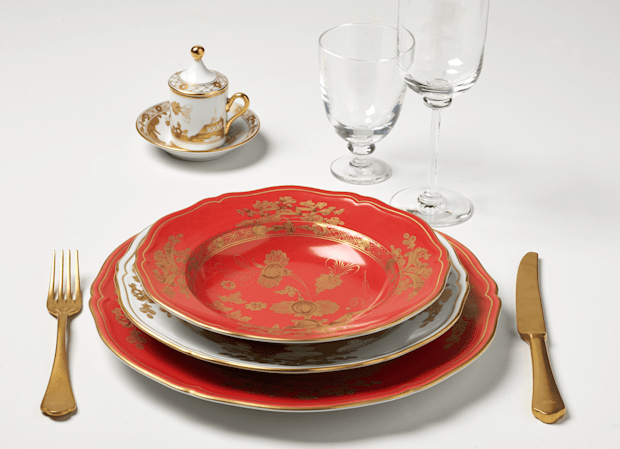 This collection is characterized by fine porcelain embellished by the delicate decoration in hand-painted pure gold that stands out in contrast with the distinctive intense red of the Rubrum color. The Oriente Italiano Gold Collection enriches the proposal of Ginori 1735, and is available in an assortment of tableware, tea and coffee, furnishing accessories and original room diffusers.
Use dishwasher with extra care (max 50°C / 120°F)
Ginori 1735 items are in stock and ready to ship.

Measurements:
Charger - 12.25" Diameter
Dinner Plate - 10.5" Diameter
Dessert Plate - 8.25" Diameter
Bread Plate - 6.75" Diameter
Soup Plate - 9.5" Diameter
Fruit Bowl - 6" Diameter
Mug - 13.5 oz
Coffee Saucer - 5.25" Diameter
Large Vide Poche
Coffee set: 2 coffee cups w covers and saucers   
Ming Vase Small 9" H
Potiche Vase with Cover, Large 15" H

Round Box w/ Cover - 

2.09"