Juliska Forest Walk Collection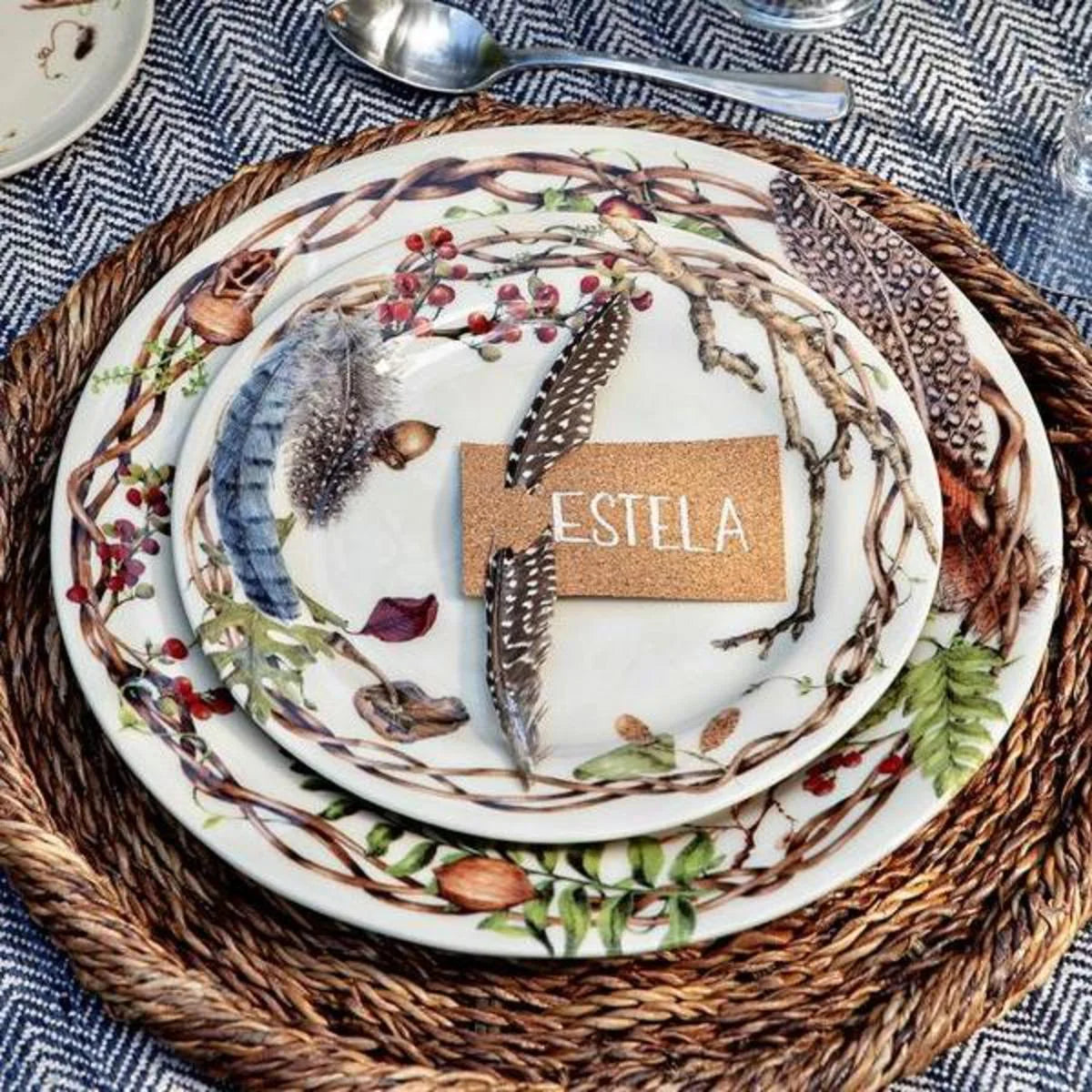 This pattern is our ode to the earth's natural beauty and Mother Nature's abundant gifts.
Reminiscent of family walks in the forest, where children bound into the trees and streams like little deer, returning with pockets full of treasures. Whether it's a sculpture of sticks or windswept feathers scattered about just so, nature provides endless variations of finely detailed textures and vibrant colors, all seemingly like little works of art.
Ceramic Stoneware
Made in Portugal
Oven, Microwave, Dishwasher, and Freezer Safe
Party Plates, Set of 4: 8.5" W

Leaf Party Plates, Set of 4: 7" W x 8" L

Berry Bowl: 5.5" W, 2.5" H, 15 oz.

Coupe Bowl: 8.5" W x 2.5" H, 1 qt.

Mug: 3.5" W, 5" H, 12 oz.

Dessert/Salad Plate Assorted Set/4: 

9.0"W x 0.75"H x 9.0"L

Side/Cocktail Plate Assorted Set/4: 

7.0"W x 0.5"H x 7.0"L

Sentiment Tidbit Set/4: 

6.0"W x 0.5"H x 6.0"L

Animal Mug Assorted Set/4: 

3.5"W x 4.5"H x 5.0"L, 11oz

Pumpkin Soup Bowl with Lid: 

4.5"W x 4.5"H x 4.5"L, 16oz 

10" Serving Bowl: 

10.0"W x 4.0"H x 10.0"L, 2.5 Qt.

6" Pumpkin: 

6.0"W x 5.5"H x 6.0"L

9" Pumpkin: 

9.0"W x 7.0"H x 9.0"L

Tureen with Lid: 

10.0"W x 8.0"H x 16.0"L

Pie Dish: 

12.0"W x 2.0"H x 12.0"L, 41.0 Oz, 1.3 Qt

Butter Dish: 

4.25"W x 3.5"H x 7.75"L

Sauce Boat and Stand: 

7.25"W x 5.5"H x 10.25"L

Spoon Rest: 

3.75"W x 0.75"H x 10.5"L

7.5" Love Gift Tray: 

5.0"W x 1.25"H x 7.5"L

10.5" Gratitude Gift Tray: 

5.0"W x 1.25"H x 10.5"L

7.5" Family Gift Tray: 

5.0"W x 1.25"H x 7.5"L

10.5" Friendship Gift Tray: 

5.0"W x 1.25"H x 10.5"L

13.5" Hostess Tray: 

7.25"W x 1.25"H x 13.5"L

 
Gratitude Platter: 

10.0"W x 1.5"H x 15.0"L

17" Platter: 

12.5"W x 1.75"H x 17.0"L

Napkin with Animals- Multi: 

0.125"W x 22.0"H x 22.0"L, Linen

Napkin Multi: 

22.0"W x 0.06"H x 22.0"L, Cotton 

Placemat Set/4: 

15.0"W x 0.1"H x 15.0"L, Resin 

Coaster Set/4: 

4.0"W x 0.25"H x 4.0"L, Cork

Gratitude Banner: 

36.0"W x 0.75"H x 24.0"L, Cotton