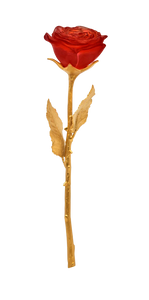 Eternal Rose in Red
Eternal Rose in Red
05590
Numbered edition
H: 10.6" D: 2.8"
0.82 lbs
Stem gilded in 24k gold
Daum celebrates 140 years of creation with an odyssey of the Rose. A symbol of love, emotion, and sentiment, the Rose—queen of flowers—embodies the very passion that has inspired la Maison Daum for 140 years. This graceful flower crystallizes a message of infinite love. The finely carved crystal rose unveils the subtlety and grace of the flower and is accentuated by the precious stem gilded in 24-karat gold or palladium, revealing its exquisite delicacy. This timeless rose, a token of everlasting love, conveys an unforgettable emotion. Each piece is created with the passion of our skilled craftsmen, and numbered by hand.
Made By Hand In France

Kiln Fired For 10 Days

Every piece is unique, no two Daum crystals are exactly alike.

Since 1878 Daum Crystal has been the ultimate in luxury.