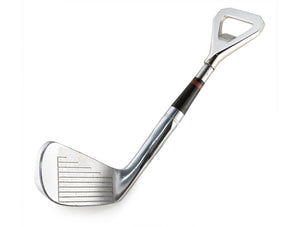 Golf Iron Bottle Opener - Premium
The 19th hole is closer than ever with these unique openers made from old woods and irons. 
These bottle openers are crafted from quality clubs from the most widely respected club makers throughout golf's history.  Too old to take out on the course, yet somehow too full of memorable drives or approach shots to toss.
Available in wood drivers (back when woods meant wood) or irons (dishwasher safe). Quality nickel plated hardware. Due to uniqueness of each club, color, size and degree of wear may vary from image. Measures approximately 9"-10" tall.
Each bottle opener comes in an embroidered flannel gift pouch with a Certificate of Authenticity.