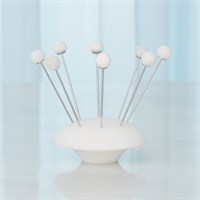 S/8 Alabaster Cocktail Picks w/Base-White
S/8 Alabaster Cocktail Picks w/Base-White
Dimensions
Overall 5"H x 4"Dia. (1 lbs)
cocktail Pin 4.25"H x 0.5"Dia.

Stainless Steel
Use a soft cloth moistened with mineral spirits
Product is Food Safe
ALABASTER CARE INSTRUCTIONS: FOR LONG TERM CONSERVATION OF THE PRODUCT, IT SHOULD BE CLEANED WITH A DRY CLOTH USING NEUTRAL PRODUCTS NORMALLY USED FOR WOODEN FURNITUR

The Set of 8 Alabaster Cocktail Picks are the perfect addition to any gathering. Made of alabaster and stainless steel.