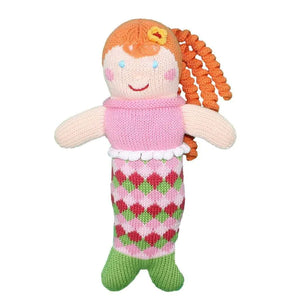 Pearly Penny the Mermaid Knit Doll 7" Rattle
Our knit mermaid doll is handcrafted in the Philippines from all natural 100% cotton yarns and eco-friendly dyes making Penny super soft and safe for kids of all ages! Our hand-knit mermaid doll is machine washable too for easy care so don't be afraid to let your child take Penny with on all their adventures!
7" rattle
100% Cotton and we use Eco-friendly dyes.
Tested 100% safe by the U.S. Product Safety Commission Standards.
100% lovable & huggable but more importantly…machine washable!
We have an excellent exchange & return policy. 
Handcrafted in the Philippines by artisans.