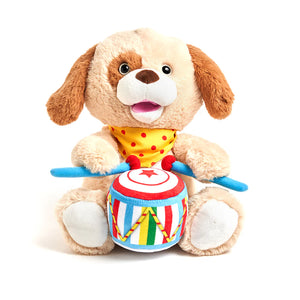 Drummin' Paxton Puppy
Drum and sing along with Drummin' Paxton! This adorable pup sings along and plays the drums to the song "Ants Go Marching In" and "B I N G O." 
Drummin' Paxton wears a cute yellow and red polka dot bandana and holds a colorful drum. He's the perfect gift for any music loving kid! 
Batteries Included

 - Operates on 3AA batteries that are already included in the plush. Bring them home and they're ready to play! Replace batteries by unscrewing battery compartment located on the bottom of the plush.

Product Care

 - Spot clean with damp towel only. Do not machine wash, as the product contains a mechanical module. 

Size

 - Measures 11"H x 9"W x 9" L

Ages

 - Recommended for Ages 2+